2021 (Spring) Asia Bluetooth Earphone Exhibition Successfully Ends
---
The 2021 (Spring) Asia Bluetooth Headset Exhibition hosted by My Love Audio Network was successfully held on March 2021, 3, and has been successfully held for 25 sessions up to this year. Eptec continues to launch new Bluetooth headsets one-to-four/one-to-two audio test system, noise reduction test system, one-to-two RF test system and other heavyweight products as scheduled. At the exhibition, engineers demonstrated the audio/RF automatic test effect and high-precision test parameters for the audience, bringing a new test experience to users in the audio industry.

Core headset test system product display: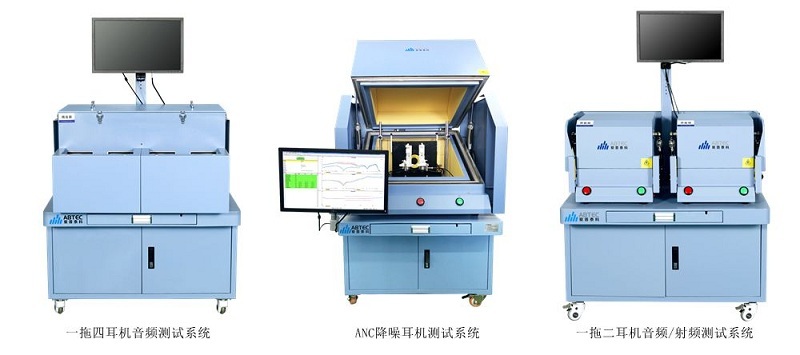 Bluetooth headset one tow four audio test system
One tow four Bluetooth headset audio test system is a customized product according to the current earphone market demand. After long-term continuous optimization, combined with the comprehensive consideration of customer product characteristics, testing requirements and manual operation habits, from hardware design to software platform, the simple, efficient and accurate test effect has been greatly realized, and UPH can reach 480 / hour.
The system is connected to the Bluetooth headset by the automatic test software, and the acoustic characteristics of the Bluetooth headset are tested through the audio analyzer, which provides a judgment basis for testing whether the headset enters the next process.
One-to-four mode: 4 tested products are tested sequentially after they are ready, saving staff pick-up time and Bluetooth pairing time.
ANC noise canceling headphone audio test system
The ANC test system is a test system based on the A2 audio analyzer that takes into account both ANC and headphone acoustics. The system supports FF, FB, Hybrid and other different noise reduction schemes, can manually or automatically test the passive noise reduction and active noise reduction curve of the headset according to customer needs, automatically adjust the gain of the product to be tested to achieve the target noise reduction effect, and automatically burn the gain data.
The test system has good stability and fast speed, which can effectively solve the problem of R&D or production line noise reduction headphone testing. At the same time, it supports all related acoustic tests of noise reduction headphone filter circuit curve test, ordinary Bluetooth headset, TWS headset, wired headset, etc.
Bluetooth headset one tow two audio automatic test system
Bluetooth audio one-to-two automatic test system can detect the acoustic functional characteristics of the music mode and call mode of the product to be tested, and provide a judgment basis for testing whether the finished headphone product enters the next process, and has been used in batches in Logitech, Philips, Sennheiser and other companies.
The system is controlled by ATE software Bluetooth box to connect to the headset under test and realize the acoustic function test of Bluetooth headset through artificial ear, artificial mouth and audio analyzer independently developed by our company.
In addition, another significant feature of the system is one-to-two automatic testing, one product is tested when the other is connected to Bluetooth, saving Bluetooth connection time and improving test efficiency.
Bluetooth headset one tow two RF automatic test system
Bluetooth RF automatic test system is based on MT8852B developed a set of data query, statistics and analysis in one of the automated test system, designed for production line Bluetooth RF automatic test, mainly used for design verification and production testing of various Bluetooth products.
The system can provide all tests of BLE, Basic Rate and EDR, such as output power, power control, modulation characteristics, initial carrier tolerance, carrier frequency drift, single slot sensitivity, multi-slot sensitivity, maximum input level, and can also automatically detect the product Bluetooth name, version, module, power level, etc., combined with server management functions, to better improve production quality and production efficiency!

Follow us
Hotline
Add:101-102, building 2, No. 1310, Guanguang Road, Kukeng community, Guanlan street, Longhua District, Shenzhen,China
Tel:+86-755-83680078
Email:sales@szaptk.com