Eptec Appears at the 4th China Electronics Manufacturing Automation&Resources Exhibition in 2020
---

China Electronics Manufacturing Automation & Resources Exhibition (CMM), is the only exhibition jointly initiated by electronic manufacturing factories, the only exhibition tailored for electronic manufacturing factories, exhibits cover the whole process of electronic manufacturing, professional visitors 40,000 people, exhibition area of 40,000 square meters, has become an annual automation resources professional exhibition.
The exhibition was postponed for several months due to the epidemic, but with the control and stabilization of the epidemic, the electronics manufacturing industry in Guangdong and even the whole country has basically recovered, especially the consumer electronics market has picked up significantly. The exhibition site continues to receive inquiries from new and old customers, especially noise reduction and TWS headphone test solutions. As a professional audio solution provider, Eptec's core products include audio analyzer series A8/A5/A4A/A2/A1DD; Automation solutions include: one-to-two Bluetooth headset audio/RF test system, ANC noise reduction headset audio test system, camera autofocus test system, etc. At the exhibition, engineers showed the test process and test effect of a variety of headphone products for the audience.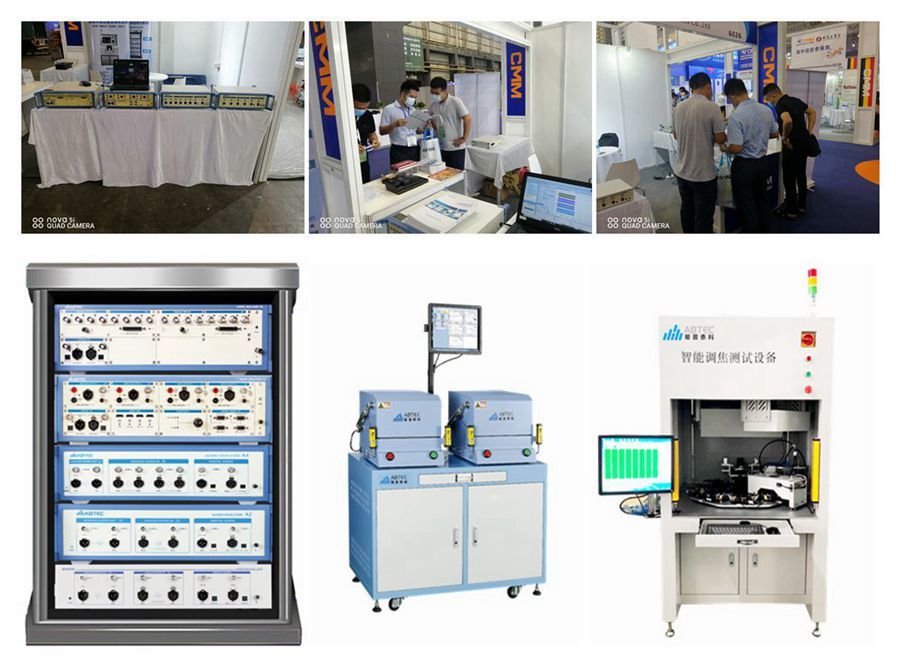 Exhibition site
◼ Professional audio analyzer A8/A5/A4/A2/A1DD
High precision, high bandwidth, multi-interface

Application fields: consumer electronics, automotive electronics, security, production lines and laboratories, etc

Provides an overall packaged test scenario
ANC noise reduction headphone audio test system/ABT6807 ANC test system is based on the audio analyzer developed a set of
ANC test and headphone acoustic test system, the system can manually or automatically test the passive noise reduction and active noise reduction curve of headphones, support FF, FB, Hybrid and other different noise reduction schemes
◼ Adjust the gain of the test product to achieve the target noise reduction effect, and automatically burn the gain data. At the same time, it supports all related acoustic tests of noise reduction headphone filter circuit curve test, ordinary Bluetooth headset, TWS headset, and wired headset.
◼ One tow two Bluetooth headset audio test system/ABT6801
The system can detect the acoustic function test of the music mode and call mode of the piece to be tested, and provide a judgment basis for testing whether the finished Bluetooth headset can enter the next process; In addition, the system is a ping-pong test mode, when one is tested, the other is connected to Bluetooth, saving
the connection time of Bluetooth headsets.
◼ One tow two Bluetooth headset RF test system/ABT6802
This test system is an automated software developed based on the 8852B instrument, which can realize high-efficiency product testing.
What it can do:
1. Finished product test and semi-finished Bluetooth headset address writing, version information verification, crystal oscillator frequency correction;
2. Automatically generate test reports;
3. One 8852B instrument realizes double-station test, saving product start-up waiting and loading and unloading time.
◼ Camera autofocus tester/ABT1803
The system is a camera function test system independently developed by our company, and the product adopts high-performance structural design and precise clear diagram algorithm. System functions include lens automatic focusing, sharpness detection, optical axis test, lens automatic intelligent focus testing equipment dispensing
and curing. The system can realize 8 stations working at the same time, the efficiency is about 3-4 times that of a single station, and the debugging and testing time range of different products is about 20s to 30s.

Follow us
Hotline
Add:101-102, building 2, No. 1310, Guanguang Road, Kukeng community, Guanlan street, Longhua District, Shenzhen,China
Tel:+86-755-83680078
Email:sales@szaptk.com